ACTION INSIGHTS
leveraging the power of influencer marketing in Central Asia
Written By
Rafael Gabrilian
Client Service Director
Central Asia & CIS
Published On
October 23, 2023
---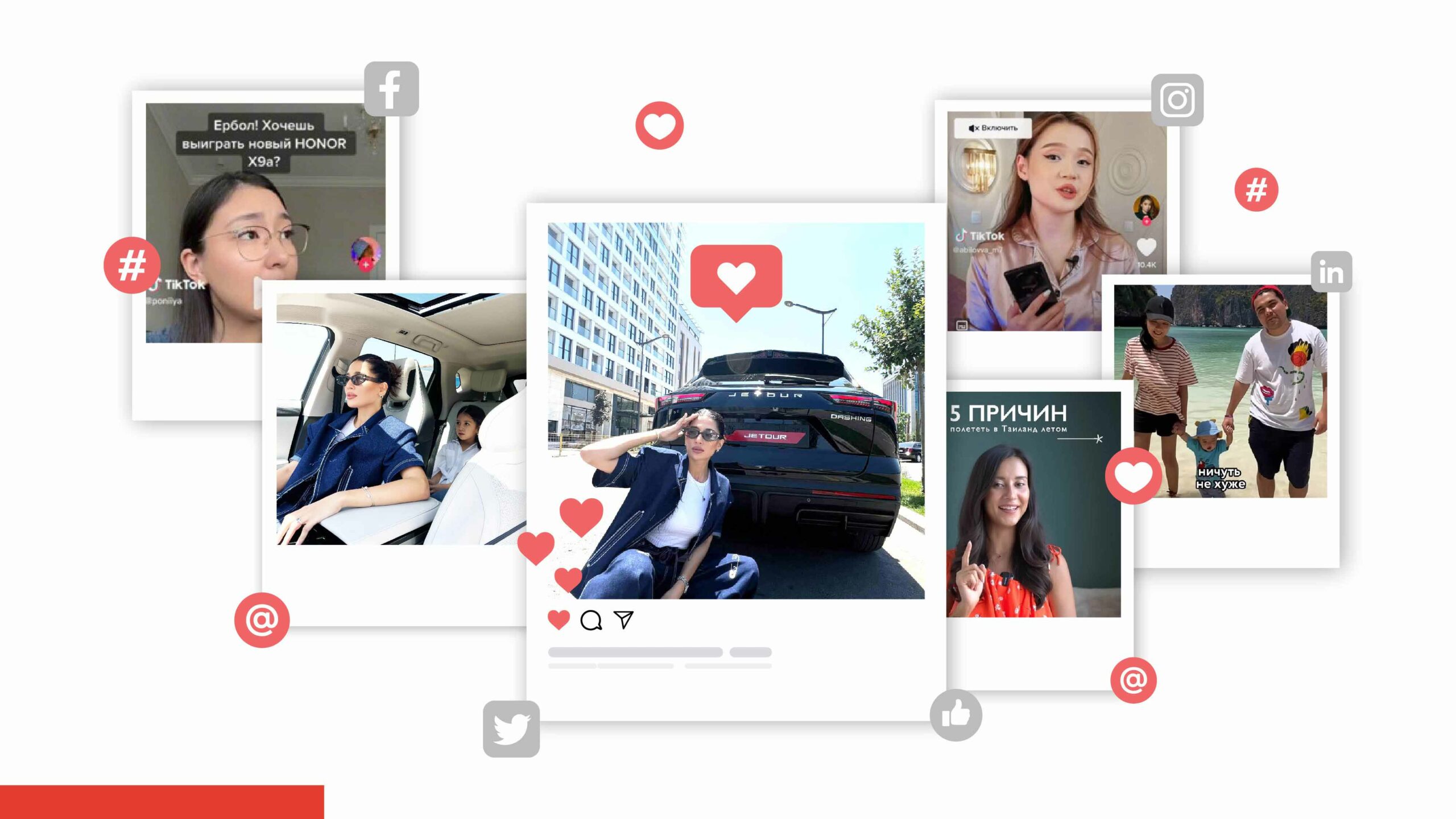 In our ever-evolving marketing landscape, influencers remain one of the most potent forces to captivate consumers' attention and drive brand engagement. Central Asia, a diverse and culturally rich region, is a place on the global marketing map where this instrument has taken the pedestal for years now. Nevertheless, brands looking to form genuine connections with audiences need to pay special attention to local nuances and preferences in order to fully leverage the power of influencer marketing in Central Asia.


As a result of a remarkable surge in Internet and social media usage in Kazakhstan, Uzbekistan, Kyrgyzstan, and Tajikistan, platforms like Instagram, YouTube, and TikTok have gained immense popularity.
According to the DataReportal 2023 report, with internet penetration standing at 90.9 percent in Kazakhstan, the country is home to almost 12 million social media users, equating to 60.8 percent of the total population.
The same report for Uzbekistan points to a total of 31.84 million cellular mobile connections in the country in early 2023, equivalent to 91.2 percent of the population.
Social media consumption is on the rise in Kyrgyzstan and Tajikistan where a little over 40 percent of the total population has been using social media platforms at the beginning of 2023.
In this dynamic digital landscape, influencers have the ability to accumulate and engage dedicated followers across various platforms. They often possess a deep understanding of local culture, preferences, and trends, making them invaluable partners for brands aiming to establish a strong online presence in Central Asia – from one-off projects to long-term collaborations. The latter deserves special attention when it comes to celebrities. Ambassadorship is a common way to leverage partnerships with celebrity influencers, including singers, actors, or athletes, by expanding their content onto various channels besides social media. A recent example of such partnerships is Kazakhstan's most popular singer, Dimash Qudaibergen, who acted as the ambassador for one of the leading smartphone brands and now represents a popular Chinese car brand. In both cases, Dimash created content not only for social media but also for brand campaigns on other channels.


Authenticity and Cultural Relevance
One of the key reasons influencer marketing has found a foothold in Central Asia lies in its potential to deliver authenticity and cultural relevance. Influencers, whether they are fashion enthusiasts, food bloggers, travel adventurers, or tech reviewers, have an innate ability to communicate in a relatable and authentic manner. By leveraging local influencers, brands can ensure that their message aligns with the cultural values and nuances of the region, fostering a stronger bond with their target audience.
In Action's recently executed campaign in Uzbekistan for Chinese car brand Jetour, we created a series of Instagram content pieces with local influencer Aziza Halilova. Our goal was to show her audience the benefits and joy of owning a Jetour car, both for city rides and for trips to the countryside. Aziza was selected due to her content that resonates perfectly with the brand's target audience of young and active city dwellers who want to escape the rush every now and then and always look for authentic experiences. The campaign aligned with deep-rooted Uzbekistani family values, with a carousel post focused on Aziza and her child having quality time while driving around the city. It also resonated with younger audiences through a reel video of the influencer going on a picnic trip with her girlfriends. The reach of content pieces created by Aziza exceeded 200K while the engagements amounted to almost 15K.


Trust and Consumer Engagement
Influencers are often perceived by their followers as peers or friends, creating a sense of trust that traditional advertising struggles to replicate. This trust is a valuable asset for brands, enabling them to tap into the emotional connections that influencers have cultivated with their audiences. As a result, influencer marketing in Central Asia has the potential to generate higher levels of engagement and interactions, ultimately leading to increased brand awareness and loyalty.
When looking for the right influencer for a travel brand, focusing on follower numbers or the "travel blogger" title in the bio is secondary. Audiences in Central Asia will better connect with influencers who are relatable and go through similar experiences and challenges that they might have during their trips. For instance, when targeting families with kids, it's advisable to engage influencers of the same demographic even if their follower numbers are under 500K or their images don't necessarily depict typical Instagram-ready turquoise waters and palm trees. Teaming up with the right creator will ensure that the travel destination or hotel indeed resonates with target audiences and influences their decision.
In Action's recent campaign for the Tourism Authority of Thailand in Kazakhstan, we precisely centered our focus on trust in influencers. To inspire Kazakhstanis to travel to Thailand in the summer, we engaged two Instagram influencers who specialize in travel and lifestyle content with the aim of reminding their audiences of the essential benefits of a holiday in the Asian country. Aziza Aibadullina created a reel video listing the top 5 reasons to enjoy Thailand in the summer and shared with her audience her genuine love for the exotic destination. Another reel, posted by travel influencer Aset Murzabayev, aimed to boost tour package sales to Thailand, emphasizing the economic value of summer travel as well as the diversity of the destination for families and friends. Each video received 11K+ likes, with the overall reach exceeding 500K.


Diverse Content Formats

Central Asia's influencer landscape encompasses a wide array of content formats, from visually appealing Instagram posts to informative YouTube videos and entertaining TikTok challenges. This diversity allows brands to choose the most suitable platform and type of post for their target audience or develop a strategic mix to effectively reach the followers via multiple channels. The flexibility offered by influencer marketing enables brands to convey their message creatively and adapt to the rapidly changing preferences of Central Asian consumers.
Although real mega influencers are scarce in Central Asia, with the most popular ones boasting around 7 million followers, the competition for quality and engaging content is fierce. Nevertheless, to drive impact and deliver measurable results, most lifestyle brands prefer to work with influencers with at least 50K followers.
Throughout our partnership with HONOR Smartphones in Kazakhstan, a variety of Instagram, TikTok, and YouTube influencers have been engaged by Action to promote the brand's diverse portfolio of products. In less than a year, 40+ influencers have created and posted around 170 content pieces highlighting five trendy gadgets – each with its unique USPs and target audiences. The formats ranged from classic Instagram photo carousels and Reels to TikTok challenges and YouTube tech reviews. The list included influencers with both Russian and Kazakh-speaking audiences which is a must for any influencer campaign in Kazakhstan. Overall, the combined reach of the five influencer campaigns implemented by Action amounted to almost 6 million with over 2.5 million interactions, providing the client with country-wide publicity, and increased levels of trust and brand affinity.
All in all, influencer marketing has emerged as a compelling and effective tool for brands to establish a meaningful connection with Central Asian consumers. The region's vibrant cultural diversity, coupled with the growing impact of social media, has paved the way for influencers to play a pivotal role in shaping consumer preferences and brand engagement. Nations in Central Asia are willing to engage with real and truthful opinion leaders to whom they can relate.

Discover more about our work in Central Asia & CIS HERE.