ACTION INSIGHTSCOMPANY NEWS
the web world's thoughts: 2023 predictions
Written By
Loris Stavrinides
Creative Director & Head of Action Web
Published On
February 7, 2023
---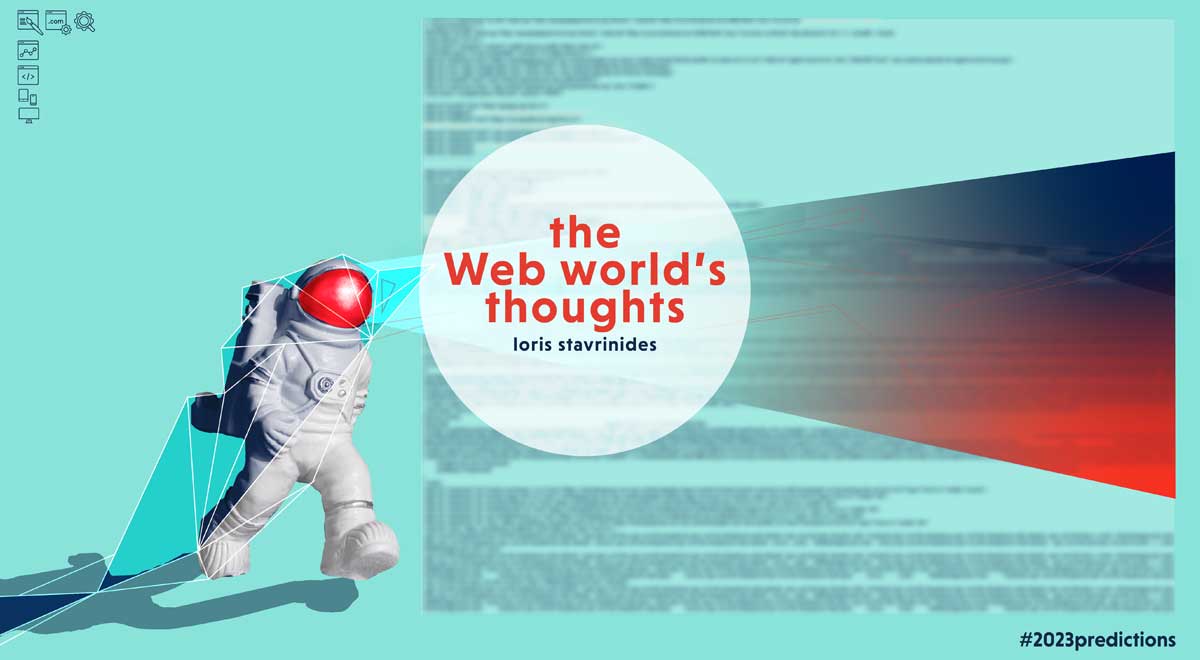 Written By
Loris Stavrinides
Creative Director & Head of Action Web
Published On
February 7, 2023
---
Share
It's that time of year again when I share my annual predictions of what we could expect to see trending in web design in the year ahead. I've been doing this series for years, and what I have noticed from my yearly predictions is that trends in visual design don't change drastically anymore. Instead, technologies are what change and become trends, and visual design simply follows. With that in mind, I am highlighting what I believe will be significant in both design and technology for web in 2023.
Without further ado, here are my predictions for the year 2023.
Big Type / Type Only
This is a trend that is not new but is being embraced more often lately, especially as digital devices increase their screen sizes and resolutions. The focus on massive typography in layouts is often used as the primary design element or even the only design element on a website. No icons, no images, just a heavy use of type to guide the user experience. I, personally, am not a fan of this approach. But given how creative styles have been blending between mediums and creative fields, I can understand how new designers approach web layouts with a more graphic design approach.
Font Combos
Another trend in the typography sector, but this time, it is related to the use of fonts. Again, not a new trend, but one that if used tastefully brings personality and elegance to a website design. The trend is to combine fonts on heading title areas, which creates a stylised contrast between them. This is something that seems to appear more often lately, even though we have seen this since 2020. I feel this is a hit-and-miss situation, but I like how it can bring out a unique personality in a design and I'd like to see this trend being embraced more often.
Creating Worlds
Web technologies are becoming more widely accessible and blurring the boundaries between technologies used for gaming or video production. Open-source codes, readily available tutorials, and the growth of creators' skills are allowing for immersive web experiences similar to what we see in movies and video games. Not a new trend, especially since creating immersive worlds has been a trend since the golden years of web design. But the technologies being used behind such experiences have been evolving drastically, and that means we will get to see such approaches even more often. Anyone who follows my work knows how much of an enthusiast I am when it comes to immersive worlds and experiences, so, needless to say, I look forward to seeing more creative use of these approaches in the future.
Cyberpunk Era
NFTs, AI, and crypto – these are the keywords that we've been hearing more and more in recent years. We're moving towards a cyberpunk era, with concepts that were once only seen in science fiction, and naturally, design follows. Among the NFT communities, there is a prominent trend of creating visuals that feel futuristic and stylised, modern and high-end. NFT creators take their work to higher levels for standing out from the competition, and they approach their projects from all angles of marketing, community relations, social media, as well as engaging websites. Due to the nature of the art styles behind the NFT projects, we get to see and experience websites that push stylistic boundaries, break rules and deliver high-end futuristic experiences. I'm not a huge fan of the NFT industry, but I just love the work and effort these creators put in, so I look forward to seeing more original website experiences that support such projects.
AI Art & Images
2022 saw the rise of highly controversial technologies, such as MidJourney AI and DALL-E 2 AI, which create Artificially Intelligent generated art and images simply by typing certain keywords into an app. In 2023 we will see this even more at the forefront of marketing, art, and design. Therefore, it is especially important for the public to be well-educated about these trends and understand how it all works. Since the emersion of these technologies, we have been seeing an extreme overuse of computer-generated images across social media, being produced by almost everyone who can type. People are creating such images for fun, to create a design they need, to be sold as NFTs to be sold as stock imagery, to replace original content, to present ideas, or even to establish themselves as artists. Such technologies are indeed breakthroughs and revolutionary, just like the most recent appearances of ChatGPT by OpenAI. However, the current AI tools that generate artwork have one fundamental flaw- they depend for their results on other people's pre-existing work. The tools scrape the web of existing images and art to form data sets of millions of images, which will be used for the software to be "trained" and produce the required results, which are made of exact copies of other people's hard work. The user, who will claim to be the owner or the "artist", simply supplies the prompts and directs the tool, but the artistic skills are all taken from the talent and the actual work of creators who have spent years of hard work and money to be able to produce them. Without them, these tools could not exist. Rightfully, creatives and artists are rioting against the unethical and unsolicited use of their work within such technologies, striving to protect their original and copyrighted creations from being abused by AI, by the public, and by the creators of these technologies who are making millions. This has also resulted in a series of lawsuits against such technologies by artists.
As the years pass, we see that technologies are increasingly becoming automation tools with minimal human input. AI is becoming the new trend for every invention, in many cases aiming to "fix" a problem by replacing human effort with computer automation. Back in the day, when people started to use Photoshop to create art and computer-generated images, many reacted against the results for not being true art. However, the difference is that such tools still depend on the user's skills, talent, fundamental knowledge of art or photography, and hard work to produce any kind of result, without breaking copyright laws due to the software they use. I have always been pro-technology and embracing innovative tools to speed up workflows, create efficiencies, and reach higher levels of quality and creativity. Especially in web design, combining the skills and tools of digital art with modern design has always been a niche I strived for. But when the acts of thieving and copyright issues come into place, when human rights are violated and questioned, that is where a line needs to be drawn.
So, how does this new trend affect web design? Just like it affects every other creative medium. Image assets that a client will supply to be used as part of a website's content or design, could be made via AI because will be cheaper (or even free) for them than hiring professional artists or photographers or even licensing any. But do they own them? Stock libraries could start to include such images, on a certain level, and possibly cheaper. Design software can start using built-in AI functionalities to generate results within the software itself, such as images or graphic elements. Microsoft is already started. Website themes and templates will offer such content as part of their packages. Asset libraries will blur the lines between what is made by AI and by a human. And what about the possibility of AI-generated web layouts and designs, by copying pre-existing ones? Open AI's ChatGPT is already capable of writing and fixing code. So many possibilities, and unfortunately many are based on the simple fact that AI images are currently illegal to be used commercially due to their non-consensual practice of using copyrighted data, putting anyone that sells or uses them at risk, and causing harm to the true creators of the work.
There is plenty of room for AI technologies to support creative professionals and become another powerful tool in their toolbox. The future is truly exciting. AI could enhance many creative workflows, increase quality and productivity, and speed up processes. It could reduce costs and allow more possibilities for creativity. But when it comes to image generators, in my opinion, these can only be valid to be used when they ethically and righteously attribute and compensate the people whose work is being scraped as part of those tools. Until then, I will remain a supporter and advocate of the old-fashion trend of custom-made artworks and designs with original concepts, for any personal and client work.
That's all from me this year. I'll leave you to be inspired with my top pick from 2022…
· Netflix's The Witcher – Welcome to the Continent – A unique experience with an immersive approach that allows users to explore the continent's map and learn more about the world of the Witcher. An instant favourite.
…and with some of our recent work from our Web Division at Action 360ˣ: 
· Tempo Cyprus – A custom website featuring the complete beverages' product catalogue of Tempo Cyprus, with a unique custom treatment for each product page.
· The Action Before Christmas – A fully custom game utilising the technologies of 3D WebGL to deliver a fun experience to our staff and clients during the Christmas season.
· Mission To Zero and EAD Recycling – Two custom games we created to support the MissionToZero campaign of the Environment Agency of Abu Dhabi (EAD).
Discover more about our web division HERE.