ACTION INSIGHTSCOMPANY NEWS
here's production's outlook: 2023 predictions
Written By
Dorothy Howls
Creative Director, Production
Published On
February 10, 2023
---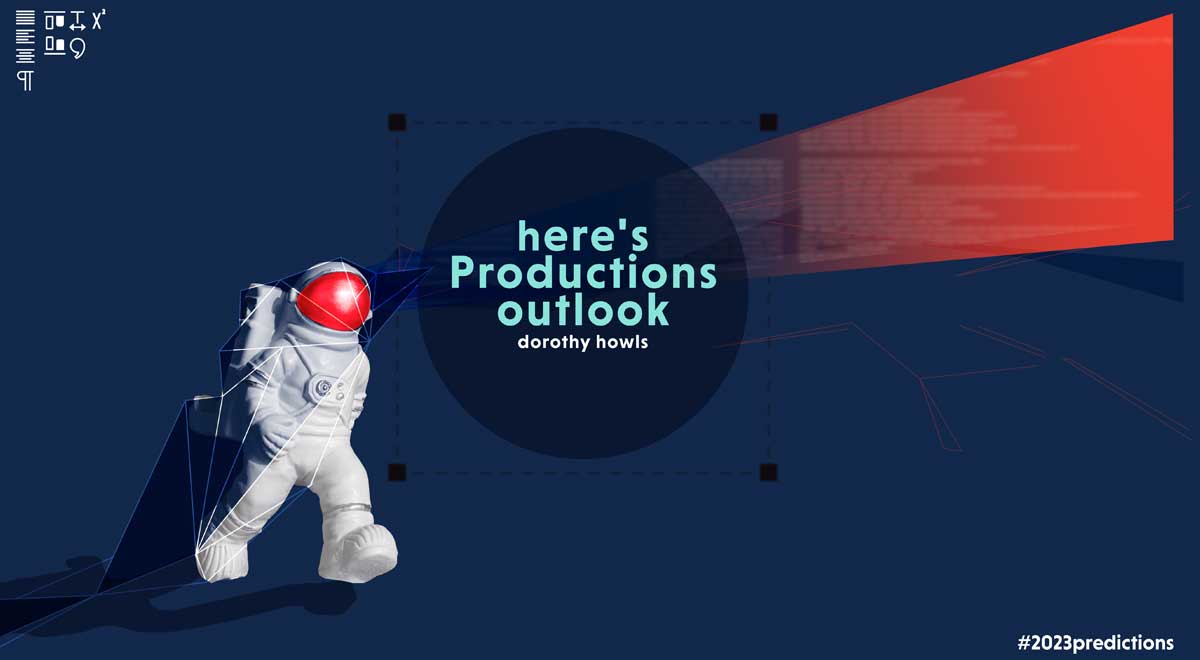 Written By
Dorothy Howls
Creative Director, Production
Published On
February 10, 2023
---
Share
With the rise of technology and the abundance of information, consumers are becoming increasingly empowered and have higher expectations for the experiences they receive from brands. To stay ahead, we at Action 360ˣ Production house adopted a human-centric approach that prioritizes the audience's needs, desires, and preferences above all else.
The following are some of the predictions for trends in human-centric advertising and marketing, which should of course filter down into any creative assets or production work created:
A for Authencity
Having more than 20 years of experience in the production industry, I recognize the importance of authenticity in today's market. Brands that are transparent about their values, beliefs and practices are more likely to win the trust and loyalty of their audience. Customers are seeking real, authentic connections and are more likely to trust and be loyal to brands that they perceive as genuine. To meet this growing demand, we must find innovative ways to bring authenticity to the forefront of production. This can be done through a variety of methods, such as using real testimonials from customers, actively engaging with audiences on social media, and incorporating transparency into our production practices. Authenticity is not only a key factor in building trust with customers, but it can also increase brand recognition, drive customer loyalty, and differentiate a brand from its competitors. By embracing authenticity in our video production, we have the opportunity to create truly impactful and meaningful experiences for our audiences.
Storytelling
Telling stories that connect with customers on an emotional level is crucial in human-centric outreach. Brands that can create compelling stories and experiences will be more effective in establishing long-term connections with their audience.
The power of a brand is to evoke something. An emotion. Brands are creating a connection between functionality and strategic partnership that multiplies viewership and impacts the world. Except for listing facts and the inclusion of key messages, the trend suggests possibly revealing a hero or underdog story. Because everyone wants these stories for themselves, and everyone has a story to tell.
Storytelling in content creation involves narratives that resonate emotionally with their customers. Brands can use storytelling to showcase their values, share their vision, and build relationships with their audience. A well-told brand story can create a connection with customers, increase brand recognition and drive loyalty. Brands can use a variety of platforms to tell their stories.
Artificial Intelligence
Artificial Intelligence has become a major trend in the advertising production industry. The integration of AI has allowed advertisers to optimize and streamline various aspects of their work, such as target audience analysis, ad creation, and campaign management. How does this benefit the creative and production side of campaign work?
When it comes to content creation, AI can assist with the creation of various assets by suggesting layouts, images, and text that are likely to perform well based on previous data. This means that AI can bring the 'science' of engagement to the table.
AI can also automate many routine tasks, such as bid management, budget allocation, and performance analysis. All of this means; freeing up time for creative and strategic work.
Overall, AI is revolutionizing the advertising production industry, helping agencies create more effective campaigns, streamline their work, and reach their target audience more efficiently.
360-degree videos
As a creative director in the video production industry, I'm constantly on the lookout for new and innovative ways to tell stories and engage audiences. The emergence of new video formats, such as 360-degree and interactive video, is particularly exciting to me.
These formats offer a unique opportunity to immerse viewers in a story and create a more interactive experience.
With 360-degree video, for example, viewers can look in any direction and see different elements of the story, creating a more dynamic and engaging experience.
Interactive video, on the other hand, allows viewers to directly engage with the content and make choices that impact the outcome of the story. These new formats open up a world of creative possibilities and offer the potential to revolutionize the way we tell stories through video.
By incorporating these latest trends in human-centric marketing and advertising from a production perspective, brands can build lasting relationships with their customers, foster loyalty and drive growth.